The name Goa came to European languages from the Portuguese, but its precise origin is unclear. In ancient literature, Goa was known by many names such as Gomanta, Gomanchala, Gopakapattam, Gopakapuri, Govapuri, Govem, and Gomantak.The Indian epic Mahabharata refers to the area now known as Goa, as Goparashtra or Govarashtra which means a nation of cowherds. Gopakapuri or Gopakapattanam were used in some ancient Sanskrit texts, and these names were also mentioned in other sacred Hindu texts such as the Harivansa and the Skanda Purana.
One of the most sought after travel and tourism destinations in India, Goa is considered to be no less than Paradise. Where else will you find the perfect blend of exotic beaches, lip smacking cuisine, easy going people, rocking parties and ancient religious places! Goa is synonymous with vacations and holidays. This is the only state that guarantees to relax and rejuvenate you and at the same time set your adrenalin rushing with the amazing varieties it has to offer. Our related sections shall give you complete information on travel and tourism in Goa.
Best Time to Visit Goa
Goa is the perfect place to enjoy a relaxing, rejuvenating and tension free holiday. You can visit this lovely place anytime of the year, though you may want to avoid the monsoons. It rains quite heavily over here thus making transportation a bit cumbersome. Else, the best time of the year that can be called the peak season for Goa travel is from October to March. The place is blessed with maritime climate which makes almost the entire year the ideal time to visit Goa!
Anjuna Beach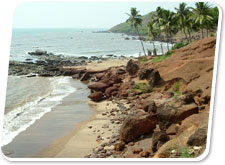 Location: 8 kilometers from Mapusa in Goa
Highlights: Flea markets, Chapora Fort, Albuquerque Mansion, trance parties
How to Reach: Anjuna beach can be easily reached by hiring a cab or an auto rickshaw from the capital city of Panaji or the Mapusa city.The sea at Anjuna beach is always calm and many people enjoy swimming over here. One can always see hordes of people flocking this beach just to relax and enjoy the sights this beach offers
Agonda Beach
Location: 37 kilometers from Margao, South Goa
Highlights: Cabo De Rama fort which is now in ruins
How to Reach: Agonda beach is slightly difficult to reach since it is a bit cut off from the main land. One can reach Agonda beach by hiring scooter or a cab. Buses don't ply.Since the Agonda beach of Goa is a bit secluded from the mainland, there are not many facilities that are provided here and one should take necessary things along if visiting this beach. It is not advisable to swim too far away on this beach because there are no lifeguards and the current is strong here
Baga Beach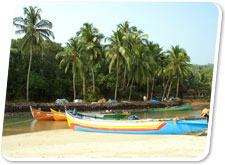 Location: An extension of the Calangute beach, the Baga beach of Goa lies 10 kilometers west of Mapusa
Highlights: Best restaurants, liveliest nightlife in Goa, water sports
How to Reach: Baga beach can be reached easily from Mapusa and Panaji by buses, cabs and auto rickshaws.The scenery of the Baga beach is picture perfect and even the worst photographer can click some good pictures here! The Baga River flows into the sea near the beach and the conjuncture of the river and the sea, one can find many rocks against which the waves crash thus giving it a dramatic look. Baga beach has unarguably the best nightlife in Goa and is frequented by mostly British tourists.
Bambolim Beach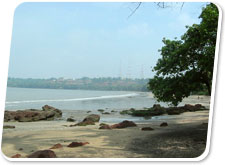 Location: North of Goa, 7 kilometers from Panaji
Highlights: Famous for the Bambolim beach resort
How to reach: The Bambolim beach can be reached by hiring a local cab or an auto from Panaji or any nearby place.
Try the sea food that is prepared here and indulge yourself in sinful gluttony. The food is so good that you can never eat to your heart's content! You can also have the food prepared to your choice and specify if you want it really spicy or mildly hot
Bogmalo Beach
Location: 4 kilometers from the Dabolim airport in Goa
Highlights: Bogmalo Oberoi hotel is located on this beach. The beach is also famous for diving expeditions.
How to Reach: Since Bogmalo beach is near the airport, it can be reached easily by hiring a taxi or an auto from the airport or any nearby place.
The Bogmalo beach of Goa is famous for the diving expeditions that tourists can enjoy over here. The water is safe and shallow till quite some distance which makes it ideal for going on a diving expedition. The concerned authorities at the beach provide all necessary facilities for diving at the Bogmalo beach.
Calangute Beach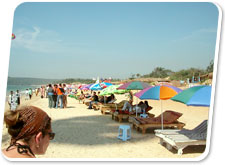 Location: 16 kilometers from the capital city, Panaji
Highlights: Known as the "Queen of Beaches" due to its increased popularity
How to Reach: The Calangute beach can be reached quite easily by hiring a cab or an auto from Panaji or any nearby place
The Calangute beach of Goa is known to be the busiest and the most commercialized beach. This beach is a favorite among tourists who come to India to visit this paradise called Goa. The Calangute beach was discovered by the hippies who came here during the 1960's and made this beach their favorite hideout. As more and more hippies came to know about this beach, it became popular and attracted many more people. The Calangute beach was known as "kolli gutti" in local language which means "land of the fishermen". Due to the Portugal rule the name got corrupted to Calangute.
Candolim Beach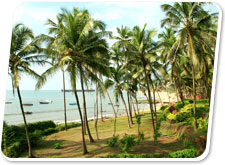 Location: 14 kilometers to the north of Panaji the capital of Goa
Highlights: Fort Aguda, variety of water sports that can be tried here
How to Reach: Candolim beach can be easily reached from Panaji by hiring a cab or an auto. Regular bus service also ply over here.
The Candolim beach of Goa will be an ideal getaway for you in India and you can be sure that the beach has much more to offer than just sun, sand and the sea.
Dona Paula Beach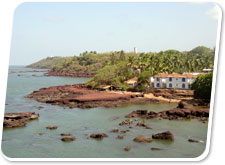 Location: 7 kilometers from Panaji, North Goa
Highlights: Water sports, National Oceanography Institute, Cabo Raj Niwas
How to Reach: Dona Paula beach can be easily reached from Panaji or any nearby city by hiring local transport like a cab or a taxi. There is regular bus service to the Dona Paula beach from any nearby place in north Goa.
Vagator Beach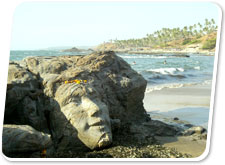 Location: In Mapusa, North Goa at a distance of 22 kilometers from Panaji
Highlights: Freshwater springs, Old Portuguese fort, scenic beauty
How to Reach: Vagator beach can be easily reached from any major city in north Goa or from Panaji by hiring a cab, auto or a bus.
Another dramatic effect to the beach is given by the 500 year old Portuguese fort situated on the beach. The fort provides breath taking view of the sea and the beach and you can click some really stunning pictures from the fort.
Palolem Beach
Location: Canacona district in south Goa
Highlights: Dolphin trips, fishing trips and swimming
How to Reach: Palolem beach can be reached very easily from anywhere in south Goa by hiring local transport and it is just 3 kilometers from Konkan railway station.
The Palolem beach is the most popular beach in south Goa. In fact, one can reach Palolem beach even from Karnataka in India, since it flanks Goa towards the south. The Palolem beach is considered to be the most photogenic beach in Goa since it has a crescent shaped coastline and fine white sand. The coast is lined with swaying coconut trees that form the most picturesque beach when seen in totality with the white sand and the blue sea.