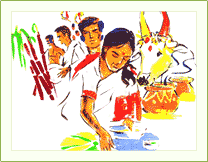 Falls In The Month
Thai (January)
Celebrated To Mark Withdrawal of The Southeast Monsoons & As Well As The Reaping Of The Harvest
Celebrated For :Four Days
Introduction
Pongal is a harvest festival celebrated by Tamils in the Indian state of Tamil Nadu and in Sri Lanka. Pongal coincides with the festival Makara Sankranthi celebrated throughout India. Pongal in Tamil means "boiling over or spill over." The boiling over of milk in the clay pot symbolizes material abundance for the household. Thai Pongal, celebrated at harvest time, is traditionally intended to thank the Sun God and farmstead livestock that helped create the material abundance.
The holiday denotes the start of the Tamil month of Thai (தை). It marks the day when the Sun purportedly shifts northwards. It signifies the commencement of Uttarayana, which represents the northward journey of Sun. The days get longer in the Tamil lands. Thai Pongal falls on Makara Sankranthi celebrated throughout India as the winter harvest.
The Legend Behind The Celebrations
There are few interesting legends behind the Pongal celebrations. The most popular among them related to the celebrations of the first day of the Pongal festival goes like this - Lord Krishna lifted the Govardhan Mountain on his little finger to shelter his people and save them from being washed away by the rains and floods.
According to another the third day of Pongal is celebrated because Lord Shiva once asked Nandi, his bull, to go to earth and deliver his message to the people - to have an oil bath every day and food once a month. But Nandi got it all mixed up when he delivered the message, and told the people that Shiva asked them to have an oil bath once a month and eat every day. Shiva was displeased, and told Nandi that since the people would now need to grow more grain, Nandi would have to remain on earth and help them plough the fields.
Different Names of Pongal
Tamil Nadu, Sri Lanka - celebrated as Pongal
Andhra Pradesh, Bengal, Bihar, Goa, Karnataka, Orissa, Madhya Pradesh, Maharashtra, Manipur, Uttar Pradesh - celebrated as Makara Sankranthi or Sankranthi
Gujarat and Rajasthan celebrated as Uttarayana
Haryana, Himachal Pradesh and Punjab - celebrated as Lohri
Assam - celebrated as Magh Bihu or Bhogali Bihu
Nepal - celebrated as Maghe Sankranthi
Pongal Greetings