Marayoor is the only place in Kerala with natural sandalwood forests and is located in the Idukki District in the state of Kerala in India. Marayoor is located at about 42 kilometers north of Munnar while you drive through Udumalpet to go to Munnar. The name Marayoor is said to have derived from the word 'mara' which means hide in both malayalam and Tamil, then 'Ooru', a village, that is, meaning, an hidden village.
By road: Marayoor is 40 km from Munnar and 55 km from Idukki.National Highway NH 49 passes through Idukki district.
By Rail :Nearest railway station: Aluva railhead, which is 120 km away. Ernakulam railhead is 173 km away.
By Air : Kochi international airport, about 150 km away.
Access
Marayoor is one of the main towns in the district of Idukki. This place can also be accessed from Pollachi / Palani in Tamilnadu and from Munnar. Tourists can find a good number of accommodation facilities at Marayur or in Munnar.
Winter (can go down to 8 oC)
Summer (can go up to 30oC)
It holds a lot of nature's blessing to be unfolded before its visitors.It's also a unique place where tourism meets adventure. The fresh mountain air, the mist-clad hills and panoramic view make it worthy of a visit. By travelling either from Marayoor to Munnar or from Munnar to Marayoor, one can feel the enchanting beauty of nature's blessing to be remembered for a life time.
The enchanting beauty of Marayoor offers diversity in every aspect of the land and its culture. Hamlets, rocky hills, rivers, brooks, cave temples, sugar cane fields, waterfalls, stone coffins, sandal wood and bamboo forests are all in store for the visitor. It is the only place in the state with a natural growth of sandal wood trees. The rare Neelakurinji flower is native to this region.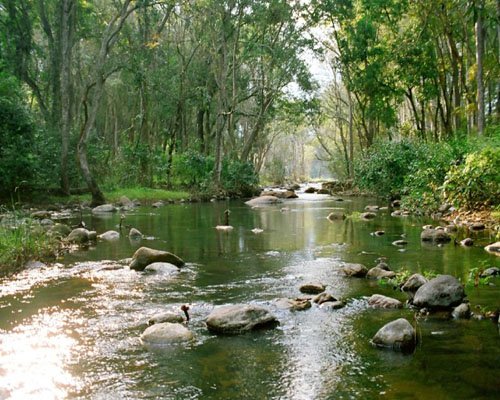 The road from Rajamala to Marayoor is flanked by lush green tea estates. There are occasional waterfalls. Then comes the sandalwood forest. The air is cool and one comes under the rain shadow area. A major tourist spot is the Muniyaras, or the stone coffins, which date back to the Neolithic period.
Sandalwood forest
Marayoor is the only place in Kerala with a natural growth of sandalwood trees. The sandalwood factory run by the Forest Department is of tourist interest.
Muniyaras
The muniyaras or stone coffins date back to the Neolithic period. The legendary wanderings of Rama and Sita and the Pandavas are clearly depicted here.
Neelakurinji flowers
The rare Neelakurinji is native to this region. Neelakurinji is an exotic flowering plant that paints the hills blue when it blossoms once every 12 years.
Thoovanam waterfalls
The spectacular Thoovanam waterfalls provides venue for adventure and romance. Visitors will enjoy the beauty and freshness of this ideal picnic spot.
Children's park
A children's park formed under the canopy of a single banyan tree spreads across a hectare of land and is really a wonderful sight. The Rajiv Gandhi national park nearby is also a prime attraction.
Munnar
FOR MORE DETAILS ON MUNNAR
Kanthalloor