Ashtavinayaka literally means "eight Ganeshas" in Sanskrit.Everybody should visit the Ashtavinayak in Maharashtra at least once in a life time. There are Eight temples dedicated to Ganesha, in Maharashtra related to various episodes from the puranas and other legends - and these deities are collectively known as Ashta Vinayak. According to Shastra, first you have to visit Moreshwar of Moregaon. Then visit Siddhatek,Pali, Mahad, Theur, Lenyandri, Ozar, Ranjangaon and then again Moregaon will end you Ashtavinayak Yatra
Each of these temples has its own individual legend and history, as distinct from each other as the murtis in each temple.
The form of each murti of Ganesha and His trunk are distinct from one another.
Some of these murtis are called Swayambhu effigies, or the self-existent in Sanskrit. This is to indicate that no human created these murtis, they were found completely formed by nature.
List of Astha vinayak Ganpati Ji:
Ballaleshwar, Pali
This Ballaleshwar temple is the only temple of Ganesh, famous by the name of his devotee. The temple is located in the toen of Pali, off the Mumbai-Pune highway, about 11 km before Nagothane on Mumbai-Goa highway.
Chintamani, Theur
Ganesh as Chintamani is a god who brings peace of mind & drives away all the perplexities of the mind.
Here the idol of Ganesha has a left trunk with carbuncle and diamonds as its eyes.
Girijatmaj, Lenyadri
Girijatmaj Vinayak refers to the Ganesh as the son of Parvati.This is the only Ashtavinayaka temple that is build on a mountain and is set in a Buddhist cave temple.
Mahaganapati, Ranjangoan
The Mahaganapati at Ranjangoan is one of the most powerful representations of Lord Ganesh. Here Shiva is believed to have worshipped Ganesha before fighting the demon Tripurasura.
The Ganesha idol here faces the east, is seated cross-legged with a broad forehead, with its trunk pointing to the left.
Moreshwar, Morgoan
This Moreshwar temple is situated along the Karha River in the Morgaon village. It is the most important of all the eight Ashtavinayak temples and has four gates.
This idol has its trunk turned to the left and a cobra poised over it to protect it.
Siddhivinayaka, Siddtek
It is believed that it was here on the Siddhtek Mountain, that Vishnu acquired Siddhi.
The temple is situated off the Pune-Solapur highway about 48 km from the town of Srigonda in Ahmadnagar district. The temple is located just next to Bhima River.
Varad Vinayak, Mahad
Ganesh as Varad Vinayak fulfills all the dreams and desires plus grants all the boons.
This temple is located three kilometers off the Pune-Mumbai highway near Khopoli (80 km from Pune) and is thus closest to Mumbai city.
Vigneshwar, Ozhar
Lord Ganesha at Ozhar is known as Vigneshwara or the remover of all obstacles which he achieved by vanquishing the demon Vighnasura.
From-To Distance Route via
Pune-Theur:25 km (Pune-Hadapsar-Loni-Theur)
Theur-Moregaon :70 km (Loni-Yavat-Supa-Moregaon)
Moregaon-Siddhatek: 65 km( Supa-Choufula-Patas-Daund-Siddhtek)
Siddhatek-Rajangaon:92 km (Daund-Kashti-Belvandi-Shirur-Rajangaon)
Rajangaon-Ozar:100 km (Shikrapur-Chakan-Rajgurunagar-Narayangaon-Ozar)
Ozar-Lenyandri:15 km (Ottur-Lenyandri)
Lenyandri-Mahad:134 km (Junnar-Narayangaon-Manchar-Rajgurunagar-Chakan-Wadgaon-Lonvala-Khopoli-Mahad)
Mahad-Pali:42 km (Khopoli-Pali)
Pali-Pune:111 km (Khopoli-Lonavla-Wadgaon-Pune)
108 Names of Lord Ganesha with meaning
1 Akhurath - One who has Mouse as His Charioteer
2 Alampata - Ever Eternal Lord
3 Amit - Incomparable Lord
4 Anantachidrupamayam - Infinite and Consciousness Personified
5 Avaneesh - Lord of the whole World
6 Avighna - Remover of Obstacles
7 Balaganapati - Beloved and Lovable Child
8 Bhalchandra - Moon-Crested Lord
9 Bheema - Huge and Gigantic
10 Bhupati - Lord of the Gods
11 Bhuvanpati - God of the Gods
12 Buddhinath - God of Wisdom
13 Buddhipriya - Knowledge Bestower
14 Buddhividhata - God of Knowledge
15 Chaturbhuj - One who has Four Arms
16 Devadeva - Lord of All Lords
17 Devantakanashakarin - Destroyer of Evils And Asuras
18 Devavrata - One who accepts all Penances
19 Devendrashika - Protector of All Gods
20 Dharmik - One who gives Charity
21 Dhoomravarna - Smoke-Hued Lord
22 Durja - Invincible Lord
23 Dvaimatura - One who has two Mothers
24 Ekaakshara - He of the Single Syllable
25 Ekadanta - Single-Tusked Lord
26 Ekadrishta - Single-Tusked Lord
27 Eshanputra - Lord Shiva's Son
28 Gadadhara - One who has The Mace as His Weapon
29 Gajakarna - One who has Eyes like an Elephant
30 Gajanana - Elephant-Faced Lord
31 Gajananeti - Elephant-Faced Lord
32 Gajavakra - Trunk of The Elephant
33 Gajavaktra - One who has Mouth like An Elephant
34 Ganadhakshya - Lord of All Ganas (Gods)
35 Ganadhyakshina - Leader of All The Celestial Bodies
36 Ganapati - Lord of All Ganas (Gods)
37 Gaurisuta - The Son of Gauri (Parvati)
38 Gunina - One who is The Master of All Virtues
39 Haridra - One who is Golden Coloured
40 Heramba - Mother's Beloved Son
41 Kapila - Yellowish-Brown Coloured
42 Kaveesha - Master of Poets
43 Krti - Lord of Music
44 Kripalu - Merciful Lord
45 Krishapingaksha - Yellowish-Brown Eyed
46 Kshamakaram - The Place of Forgiveness
47 Kshipra - One who is easy to Appease
48 Lambakarna - Large-Eared Lord
49 Lambodara - The Huge Bellied Lord
50 Mahabala - Enormously Strong Lord
51 Mahaganapati - Omnipotent and Supreme Lord
52 Maheshwaram - Lord of The Universe
53 Mangalamurti - All Auspicious Lord
54 Manomay - Winner of Hearts
55 Mrityuanjaya - Conqueror of Death
56 Mundakarama - Abode of Happiness
57 Muktidaya - Bestower of Eternal Bliss
58 Musikvahana - One who has mouse As charioteer
59 Nadapratithishta - One who Appreciates And Loves Music
60 Namasthetu - Vanquisher of All Evils & Vices & Sins
61 Nandana - Lord Shiva's Son
62 Nideeshwaram - Giver of Wealth and Treasures
63 Omkara - One who has the Form Of OM
64 Pitambara - One who has Yellow-Coloured Body
65 Pramoda - Lord of All Abodes
66 Prathameshwara - First Among All
67 Purush - The Omnipotent Personality
68 Rakta - One who has Red-Coloured Body
69 Rudrapriya - Beloved Of Lord Shiva
70 Sarvadevatman - Acceptor of All Celestial Offerings
71 Sarvasiddhanta - Bestower of Skills And Wisdom
72 Sarvatman - Protector of The Universe
73 Shambhavi - The Son of Parvati
74 Shashivarnam - One who has a Moon Like Complexion
75 Shoorpakarna - Large-Eared Lord
76 Shuban - All Auspicious Lord
77 Shubhagunakanan - One who is The Master of All Virtues
78 Shweta - One who is as Pure as the White Colour
79 Siddhidhata - Bestower of Success & Accomplishments
80 Siddhipriya - Bestower of Wishes and Boons
81 Siddhivinayaka - Bestower of Success
82 Skandapurvaja - Elder Brother of Skand (Lord Kartik)
83 Sumukha - Auspicious Face
84 Sureshwaram - Lord of All Lords
85 Swaroop - Lover of Beauty
86 Tarun Ageless
87 Uddanda - Nemesis of Evils and Vices
88 Umaputra - The Son of Goddess Uma (Parvati)
89 Vakratunda - Curved Trunk Lord
90 Varaganapati - Bestower of Boons
91 Varaprada - Granter of Wishes and Boons
92 Varadavinayaka - Bestower of Success
93 Veeraganapati - Heroic Lord
94 Vidyavaridhi - God of Wisdom
95 Vighnahara - Remover of Obstacles
96 Vignaharta - Demolisher of Obstacles
97 Vighnaraja - Lord of All Hindrances
98 Vighnarajendra - Lord of All Obstacles
99 Vighnavinashanaya - Destroyer of All Obstacles & Impediments
100 Vigneshwara - Lord of All Obstacles
101 Vikat - Huge and Gigantic
102 Vinayaka - Lord of All
103 Vishwamukha - Master of The Universe
104 Vishwaraja - King of The World
105 Yagnakaya - Acceptor of All Sacred & Sacrficial Offerings
106 Yashaskaram - Bestower of Fame and Fortune
107 Yashvasin - Beloved and Ever Popular Lord
108 Yogadhipa - The Lord of Meditation
Special S.T. buses ply between Pune and all the Ashta Vinayak temples. Tours are also organized by private operators. Dharmashala, Lodges and M.T.D.C. resorts almost at all the places for visitors to reside. Ashta Vinayak Temples are within the range of only 20 to 110 Kms.
ENGLISH VERSION:
EKADANTA MAHAKAYA SURYA KOTI SAMAPRABHA
NIRBIGHNAM KURUME DEVA SARBAKARYESHU SARBADA
TRANSLATION:
Oh, Lord Ganesh, with curved trunk and massive body, the one whose splendor is equal to millions of suns, please bless me so that I do not face any obstacles in my endeavors
SHRI GANESH SHLOKA
ENGLISH VERSION:
VAKRATUNDA MAHAAKAAYA SUURYAKOTI SAMAPRABHA |
NIRVIGHNAM KURU ME DEVA SARVAKAARYESHHU SARVADAA ||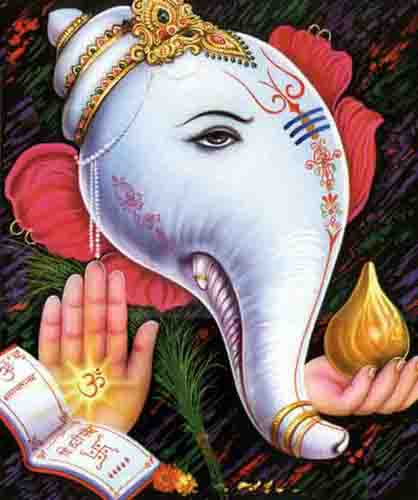 MEANING OF SHREE GANESH SHLOKA
O God Ganesha (large bodied with a large belly), radiant as millions of Suns, Please, remove obstacles in all of my tasks all the time