Kumarakom is one of the most famous backwater destinations of Kerala, India. Located at the distance of 15 km from Kottayam town in Kerala, it is a peaceful region with numerous coconut palms and shallow waterways. The most important attractions of Kumarakom are the Natural Bird Sanctuary and the breathtaking Backwaters. One of the most popular ways to explore the Kumarakom Bird Sanctuary and the breathtaking backwaters is by scheduling houseboats in Kumarakom Kerala backwaters. Kumarakom houseboat takes you into the unique world of water and wonderment and provides wonderful opportunity to explore backwaters attractions including bird sanctuary. A Kerala Houseboat tour over the breathtaking backwaters at Kumarakom will be surly a great experience.
Best Time To Visit : September to March
Environment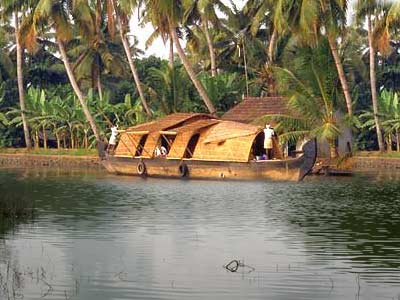 Kumarakom is home to a wide variety of flora and fauna. Kumarakom Bird Sanctuary is a noted bird sanctuary where many species of migratory birds visit. The Vembanad Lake, the largest backwater in Kerala, is habitat for many marine and freshwater fish species and it teems with Karimeen (Pearl spot), shrimp (chemmeen in the local language) and prawns. The bird sanctuary extends over 14 acres (57,000 m²), and came into existence following preservation efforts from the government. It is a major tourist attraction.
Major attraction of Houseboats Kumarakom Tour
Kumarakom Backwater : The Kerala Backwaters are a chain of brackish lagoons and lakes lying parallel to the Arabian Sea coast (known as the Malabar Coast) of Kerala state in southern India. Local people call it Kayals. The backwaters of Kerala- twisty inland lakes networked by canals - extend to over 1900km..Vembanad lake is the largest of the lakes, covering an area of 200 sq km, and bordered by Alappuzha (Alleppey), Kottayam, and Ernakulam districts. Just 12 km from Kottayam, this exclusive backwater destination sited on the banks of the Vembanad lake is considered the gateway to the backwaters of Kuttanad.
Kumarakom Bird Sanctuary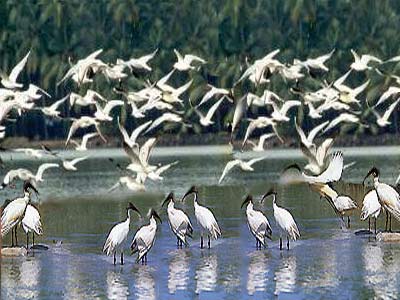 Aruvikkuzhi Waterfalls
Vembanad Lake
Spice Plantation
Coffee & Tea Plantation
Ayurveda Resorts
Hotels in Kumarakom
5 Star Hotels in Kumarakom
Kumarakom Lake Resort
Radisson Plaza Resort & Spa
4 Star Hotels in Kumarakom
Backwater Ripples
Taj Garden Retreat, Kumarakom
Waterscapes
Golden Waters
3 Star Hotels in Kumarakom
Abad Whispering Palms Lake Resort
Backwater Retreat
Cocobay Resort
Eastend Lakesong
Lakshmi Hotel & Resorts
The Backwater Resort
Heritage Hotels in Kumarakom
Coconut Lagoon
Tharavadu Heritage Home
Budget Hotels in Kumarakom
Illikkalam Lake Resort
Lake Palace Resort
Paddy Fields Resort
Resorts in Kumarakom
Ayurtheeram
Kumarakom Lagoon
Paradise Resort