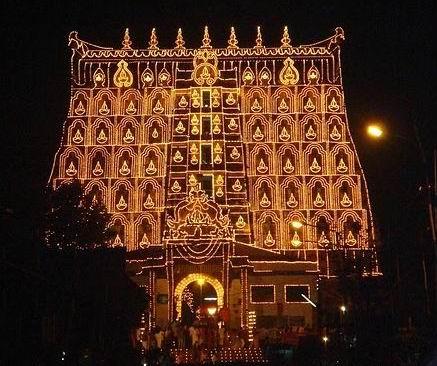 Location
Padmanabhaswamy temple is a famous Hindu temple of Lord Vishnu, located inside the Fort in city of Thiruvananthapuram, Kerala, India. The temple is one of the 108 divya desam, the holiest abodes of Lord Vishnu. The main deity, Padmanabhaswamy, is a form of Vishnu in Anananthasayanam posture. This is an ancient temple and the city of Thiruvananthapuram derives its name from the name of the presiding deity enshrined in the temple.
Specials:
The Moolavar, Anantha Padmanabhar who is found in Kidantha (Palli Kondulla) kolam is said to be one of the speciality of this sthalam. A Shiva Lingam is found close to the Thirumugham of the Moolavar, which explains to the world that both Hari and Haran are not two different and separate Gods, but they are a Single and should be worshipped as one.
Mythology
Padmanabhaswamy Temple stands at a place considered as one of the seven Parasurama Kshetras; texts including the Puranas, particularly the Skanda Purana and Padma Purana, have references for this shrine. Tradition states that in this place, the Hindu deity Lord Vishnu gave darshan to Indian sages like Divakarmuni and Vilvamangalam Swami. Another story tells of a pulaya couple seeing Vishnu in the form of a child. The child took morsels of rice from the hands of the couple. Also it is believed that Divakaramuni, when he saw the deity he took the first food item he saw which was an Unripe Mango and a coconut shell as an offering plate and performed primary pooja. In memory of this legend, naivedyam or offering prepared from rice is offered to the deity here in a coconut shell.
Darshan Times & Dress Code
Darshan times are (before noon) 3.30-4.45, 6.30-7.00, 8.30-10.00, 10.30-11.00, 11.45-12.00; (after noon) 5.00-6.15 and 6.45-7.20. Only Hindus are permitted inside the temple. Devotees have to strictly follow the dress code. Men should remove clothes above waist and deposit in the locker room. No one is permitted to wear dress that displays both legs separately. This means no pants for men or churidhar for women. Dhotis can be borrowed at the locker room for Rs. 15. Dhotis can be worn over pants or churidhar. No cell phones or cameras are permitted inside the temple. Cell phones must be deposited in the locker room after taking it out of the bag for Rs. 15 a piece. Hand bags are permitted inside.
Main Festival
The biggest festival in this temple is laksha deepam, which means hundred thousand (or one lakh) lamps. This festival is unique and commences once in 6 years. Prior to this festival, chanting of prayers and recitation of three vedas is done for 56 days. On the festival time, hundred thousand oil lamps are lit in and around the temple premises. The next laksha deepam is slated on January 2014