India's commercial capital Mumbai is a very fast city and here people always remain in hurry.Mumbai is not having much options for providing some peaceful retreat to residents or visitors, but there are a number of place around Mumbai where one spend some good time.It has got some of the Awesome places nearby which one should definitely visit. Close to Mumbai there are a number of places which offers excellent holidaying options. Some of the popular weekend getaways from Mumbai include :
Just 88 kms away from Mumbai, Karjat makes a perfect getaway. Set on the banks of the Ulhas river, Karjat is a beautiful place with the gushing river, verdant field and green-topped hills all around.It is also very close to Matheran Karjat is also famous for adventure sports, you can hop, skip and jump here.
A quiet and un-spoilt hill station, Matheran is located very close to Mumbai.The best time to visit is in monsoon, its natural beauty shines more.You should remember that vehicles are not allowed in the hill station and you have to either walk or ride a horse or take a buggy ride to reach there.The toy train connecting it with karjat is also its major attraction, exploring all its natural beauty.
The twin hill stations of Khandala and Lonavala are a excellent choice as weekend getaways from Mumbai. Bestowed with picturesque vistas and romantic aura, the twin hill resorts make a favoured destination for honeymooners and common travellers. Lonavala is set at a height of 625 m above sea level and Khandala is a little lower. You will really like the journey to Lonavala and Khandala as you have to reach by winding roads around the Western Ghats.The best time to visit these places is in monsoon , with its awesome beauty it becomes heaven .At this time its natural beauty is at the peak.
One of the most popular getaways of Mumbai, Alibag attracts large number of people. Those who are looking for some peace, Alibag is the perfect place. With its lush tropical beauty, palm fringed beaches, lush mango orchards, chikoo-wadis and paddy fields Alibag offers a pleasantly retreat. During the monsoons, Alibag becomes more beautiful it offers a romantic setting for honeymooners and common travellers as well.
Kamshet (110 kms, Driving time +3 hours ) :
Kamshet is a picturesque destination and located very close to Mumbai. Nestled amidst fields and villages, with a beautiful lake in the vicinity, Kamshet offers a perfect getaway for tourists visiting Mumbai.Kamshet is also considered as one of the best places in India to undertake the adventure sport of para gliding in India. So during your Mumbai trip go for a holiday or honeymoon with a difference at Kamshet.
Malshej Ghat (150 kms, Driving time +3 hours ) :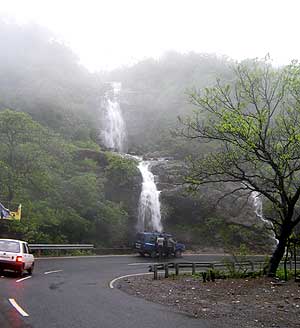 For those who want to experience nature at its best and looking for a memorable holiday, Malshej Ghat is a perfect place. Malshej Ghat has shimmering waterfalls, splendid green hillsides and amazing rock formations. Every year between July and September, the flamingoes come to Malshej Ghat all the way from Europe and add to the scenic vistas of the place.
Murud-Janjira (165 kms, Driving time +5 hours ) :
A peaceful fishing village with a beautiful seashore, Murud-Janjira make a perfect getaway from Mumbai. In fact, Murud-Janjira is a holiday and honeymoon destination with a difference and it will surely mesmerize you. See the wooden cottages and relax at lovely beach edged with swaying betel palms, coconut fronds and groves of casuarinas. Also visit the temple of Dattatreya which provides commanding view of the entire bay.
Bhandardara (185 kms, Driving time +4 hours ) :
If you are looking for an un-spoiled place, where you can connect directly to the nature, then Bhandardara may be a place for you. The pristine Arthur lake and the lush-green forests of the Sahyadrai hills add more to the beauty of Bhandardara. You will also get mesmerized by seeing the 150 m high Wilson dam which is not just an engineering marvel but is also the lifeblood for the paddy fields nearby. The ancient Agastya Rishi Ashram set on the banks of the Pravara River is another attraction of Bhandardara. It is said that the ashram is mentioned in the Hindu epic Ramayana as the spot where Ram met Agastya Rishi.
A major pilgrimage centre, Shirdi is located close to Nasik and offers an aura of spiritual sanctity. Shirdi was the home of the saint Sai Baba who lived here for 80 years. People believe that Sai Baba himself calls his devotees to Shirdi and that his blessings can heal even the deepest wound.You can also go to Shani Shanapur which just 70 Km from Shirdi.
Mahabaleshwar (290 kms, Driving time +6 hours ) :
Mahabaleshwar is a beautiful hill station popular with couples on their honeymoon as well as families with kids in tow. Set at an altitude of 4,500 ft in the Sahyadri Mountains, Mahabaleshwar offers spectacular view of the lush valleys of the Deccan and the Konkan coast.
Panchgani (268 kms, Driving time +6 hours ) :
Set amidst the five hills, Panchgani is a favourite getaway for those weary of Mumbai's fast life. Blessed with the pristine natural beauty, Panchgani is a favourite destination for honeymooners and vacationers.With its natural beauty it attracts tourists from all over the world.