Mumbai being commercial capital of india has a good number of hotels offering world class hospitality.
It is the heart of the country. It is the hub of all economical activities of the country and is the center of industry, communication and transportation.
Mumbai hotels are completely unparalleled in every aspect be it accommodation, cost, services matching the expectation of traveler. Hotels in Mumbai are well equipped with all modern amenities providing best hotel accommodation services in the world. Hotels in Mumbai comprises of different rooms including deluxe classic hotels, deluxe luxury rooms, premium luxury rooms, ocean front suite, walnut suite and many such varieties. They offer comfort, quality and great value for money.
5 Star Hotels
Address:
90 Cuffe Parade, Colaba
Mumbai-400005 India
Accessibility:
International Airport: 35 KM
Domestic Airport: 29 KM
Railway Station: 3 KM
Address:
Off Western Express Highway
Mumbai-400055 India
Accessibility:
International Airport: 9 KM
Domestic Airport: 3 KM
Railway Station: 1 KM
Address:
Sahar Airport Road
Mumbai-400099 India
Accessibility:
International Airport: 1 KM
Domestic Airport: 5 KM
Address:
Sahar
Mumbai-400012 India
Accessibility:
Chhatrapati Shivaji International Airport: 2 KM
Domestic Airport: 5 KM
Bombay Central Railway Station: 28 KM
Address:
Nariman Point
Mumbai-400021 India
Accessibility:
International Airport: 27 KM
Domestic Airport: 23 KM
Railway Station: 2 KM
Address:
Nariman Point
Mumbai-400021 India
Accessibility:
International Airport: 27 KM
Domestic Airport: 23 KM
Railway Station: 2 KM
Address:
Juhu Tara Road, Juhu
Mumbai-400049 India
Accessibility:
International Airport: 10 KM
Domestic Airport: 5 KM
The Leela Kempinski Mumbai
Address:
Sahar
Mumbai-400059 India
Accessibility:
International Airport: 1.5 KM
Domestic Airport: 6 KM
Address:
Sahar Airport Road
Mumbai-400099 India
Accessibility:
International Airport: 1 KM
Domestic Airport: 7 KM
Andheri Railway Station: 4 KM
Address:
39, Juhu Beach
Mumbai-400049 India
Accessibility:
International Airport: 10 KM
Domestic Airport: 5 KM
Address:
Erangal Beach, Madh Marve Road
Madh Island
Mumbai-400061 India
Accessibility:
Sahar International Airport : 26 KM
Domestic Airport : 27 KM
Malad Railway Station : 13 KM
Address:
11, Madh Marve Road
Aksa Beach, Malad (West)
Mumbai-400095 India
Accessibility:
International Airport : 23 KM
Domestic Airport : 23 KM
Railway Station : 10 KM
Intercontinental The Lalit Mumbai
Address:
Sahar Airport Road, Andheri (East)
Mumbai-400059 India
Accessibility:
Sahar Airport: 2 KM
Domestic Airport: 7 KM
Andheri Railway Station: 5 KM
Intercontinental Marine Drive
Address:
135, Marine Drive
Mumbai-400020 India
Accessibility:
International Airport: 27 KM
Domestic Airport: 17 KM
Railway Station: 1 KM
The Taj Mahal Palace & Tower
Address:
Apollo Bunder, Colaba
Mumbai-400001 India
Accessibility:
International Airport: 32 KM
Domestic Airport: 23 KM
Railway Station: 2.5 KM
Four Seasons Hotel (Worli)
Address:
114, Dr. E. Moses Road, Worli
Mumbai-110018 India
Accessibility:
Chhatrapati Shivaji Airport: 60 Minutes
Santa Cruz Airport: 45 KM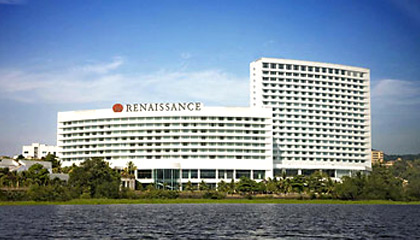 Address:
2 & 3B, Near Chinmayanand Ashram
Powai
Mumbai-400087 India
Accessibility:
Chhatrapati Shivaji International Airport: 5 KM
Mumbai Domestic Airport: 9 KM
Address:
No 1, Sector 10
CBD Belapur, Navi Mumbai
Mumbai-400614 India
Accessibility:
Chhatrapati Shivaji International Airport: 42 KM
CBD Belapur Station: 1 KM
Chhatrapati Shivaji Terminus: 41 KM
Address:
287, Dr. Babasaheb Ambedkar Road, Parel
Mumbai-400012 India
Accessibility:
International Airport: 22 KM
Domestic Airport: 15 KM