Location : Approximately 128 km from Pune
Dedicated To : Lord Shiva
Highlights : One of the twelve Jyotirlingas in India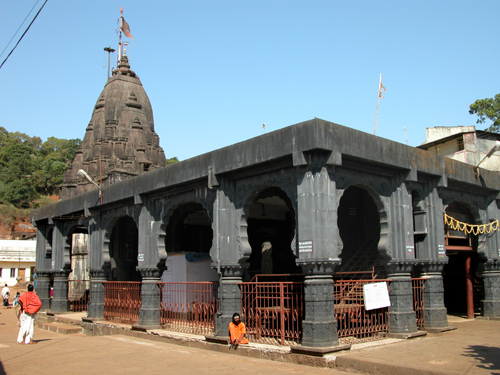 Bhimashankar Temple is located in the village of Bhorgiri 50 km north west of Khed, near Pune, in India. It is located 110 km away from Pune in the Ghat region of the Sahyadri hills. Bhimashankar is also the source of the Bhima river, which flows south east and merges with the Krishna river near Raichur. The other Jyotirlinga shrines in Maharashtra are Parli, Tryambakeshwar and Grishneshwar. Regular pilgrims near Mumbai visit Bhimashankar from Karjat via Khandas. The Bhimashankar Wildlife Sanctuary located here is a popular weekend getaway from Mumbai and Pune.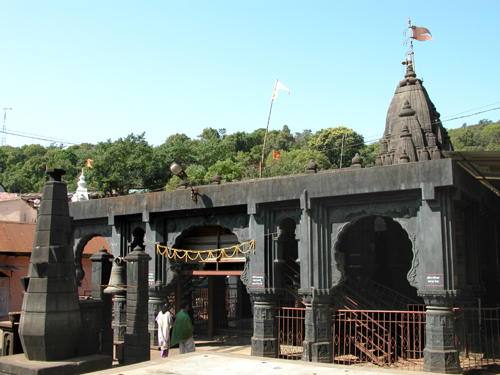 The Bhimashankara temple is a composite of old and the new structures and is built in the Nagara style of architecture. It is a modest temple yet graceful temple and it dates back to mid 18th century. The shikhara of the temple was built by Nana Phadnavis. The great Maratha ruler Shivaji is also said to have made endowments to this temple to facilitate the carrying out, of worship services. As with other Shiva temples in this area, the sanctum is at a lower level.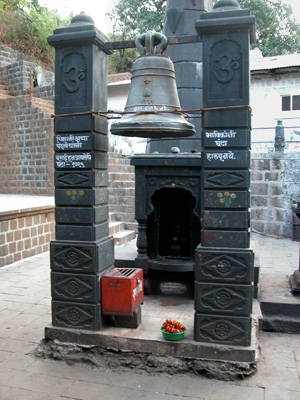 A huge bell is located close to the temple.
It has 1721 AD inscribed on it.
When the bell is rung, the entire area echoes with its sound
This temple is closely associated with the legend of Lord Shiva slaying the demon Tripurasura:
In ancient times a demon by the name Tripurasura became drunk with power. He harassed every resident of Swarg (Heavens), Narak (Hell) and Patal (Nether world). The Gods were very scared. Lord Mahadev himself came to destroy Tripurasur. Lord Shankar assumed colossal proportions. Tripurasur feared this Rudraavatar when he saw him. The dual went on for several days. In the end, Lord Shiva killed the wicked demon and set the three worlds, Tribhuvan, free. Lord Shankar, in the form of a huge hunk (Virat), was very tired. In order to get some rest, he settled here on the high area of the Sahyadri mountains. Sweat started pouring down from his huge body in thousands of streams. It all joined together and collected a pond or Kund. The river that started from here is known as Bhima, which can be seen even today. Devotees then prayed to Bhimakaya Rudra thus: "In order to save the good people, please reside here forever!" Bholenath listened to his devotees and stayed there as a Jyotir Linga forever.
Three worship services are offered every day. Mahashivratri is a season of greate festivity here.
Normal Puja - Rs 25; Abhishek Puja - Rs 51; Rudra Abhishek - Rs 151; Maha Puja - Rs 351; Lagu Rudra Abhishek (Includes 11 Brahmans) - Rs 751 (Includes 11 Brahmans)
Timings:
Morning - 4:30 am
Aarti - 5:05 am
Normal Darshans - 5:15 am to 11:30 am.
No Abhishekam between - 11:30 am to 11:50 am.
Maha Puja - 12 pm.
/noon Maha Nivedhyam - 12:30 pm.
Abhishekam and Normal Puja - 12:30 pm to 2:30 pm.
Shringar Puja - 2:45 pm to 3:15 pm.
Aarti - 3:15 pm to 3:30 pm
Shringar Darshan - 3:30 pm to 7:30 pm