Shani Shinganapur - God Shani,Location & How To Reach,History,No Door In Houses,Temple Timings & Rules,Near By Places,God Shani Mantra
God Shani:
Shaniis one of the Navagraha which are the nine primary celestial beings in Hindu astrology, or Jyotiṣa. Shani is embodied in the planet Saturn. Shani is the Lord of Saturday; the word Shani also denotes the seventh day or Saturday in most Indian languages
Location & How To Reach:
Shinganapur is a village situated at a distance of 6 kms from Ghodegaon on Aurangabad Ahmedanagar road in Maharashtra. It is 84 Kms from Aurangabad and 35kms from Ahmednagar.
From Ghodegaon, there is a motorable tar road leading to the Shri Shaneshwar and is open in all the seasons. The population of this village is about 3000.
State Transport buses ply regularly to Shinganapur from Ahmednagar, Aurangabad.
Another well known pilgrim centre Shirdi is at a distance of 70kms from Shinganapur and can be reached via Rahuri and Sonai
Shinganapur & History:
This village is an interesting village in that
no houses have doors
. The belief of the villagers is that their Lord Shaneshwara will protect them from all evil. This includes robbery and theft. The hamlet is about 65 km from Shirdi.
Temple Timing & Rules:
The image of the lord is large and is made of black stone. Only male devotees are permitted to worship in the temple. The devotees should first take bath in the public bathrooms and then pray with wet dhotis without any upper garment.
The temple is open for worship from
5 am to 10 pm.

Places of Interest near Shani Shinganapur Temple:
Shri Datta Temple, Devgad
Renuka Mata Temple, Sonai
Saibaba Temple, Shirdi
According to legend, Shani is a devotee of Lord Shiva. As mentioned in the "Navagraha Pidahara Sthothram" of "Brahmanda Purana", anybody who chants the following sthothra is relieved from all the ill effects of Shani.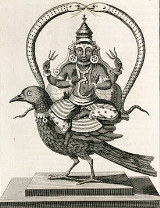 Suryaputhro Deerghadeho Vishaalaakshah Shivapriyah |
Mandachaarah Prasannathmaa peedam harathu me Shanih ||