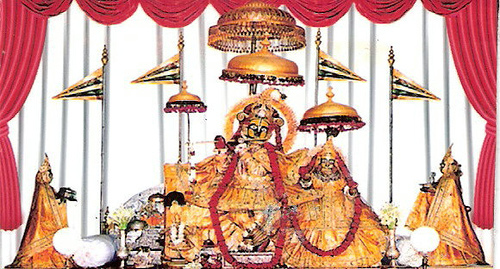 Location:
In City Palace Complex
Established In:
18th Century by Raja Sawai Jai Singh
Built In:
1890 by Raja Man Singh
Dedicated to
:
Govind Dev Ji (Lord Krishna)
How to reach:
One can easily reach Govind Dev Ji Temple from the city by taking local Buses, Rickshaws and Taxis
History & Importance:
Govind Dev Ji Temple is one amongst the major tourist attractions of Jaipur. The Temple represents the royal past of Jaipur. The Temple is dedicated to Govind Dev Ji (Other name of Lord Krishna). Govind Devji Temple of Jaipur is situated in the City Palace complex, between the Chandra Mahal and Badal Mahal. Govind Dev Ji is the principal deity of Amber's Kachawaha Dynasty. In the earlier times, the idol of the lord used to reside in the temple of Vrindavan in Uttar Pradesh.
According to a legend, Govind Dev Ji appeared in the dream of Raja Sawai Jai Singh and asked him to bring his idol from Vrindavan to Jaipur. As a consequence, Raja Sawai Jai Singh brought the idol and placed in the City Palace complex of Jaipur. After the sad demise of Jai Singh, many successors acquired the throne, but Raja Man Singh took the initiative to build the temple in 1890.
The beautiful image of Radha-Krishna doesn't let people to take off their eyes from the lovely view. Different 'Aartis' and 'Bhog' are offered to the deity at seven different times of the day. Every time, when the idols are revealed to the devotees, they are clothed in a different manner. The Devotees, who come here to get the glance or 'Darshan' of the deities, reverberates the temple with the pious phrase "Jai Govind".
Timings and Daily Schedule of Worship, Aarti and "Bhog":
Schedule of Worship, Aarti and Bhog in the temple change in winter and summer. Presently, the schedule is as follows:-
Mangala
5:00 am - 6:00 am
Dhoop
8:30 am - 9:45 am
Shringar
10:30 am - 11:15 am
Rajbhog
11:45 am - 12:15 noon
Gwal
5:30 pm - 6:00 pm
Sandhya
6:30 pm - 7:45 pm
Shayan
8:30 pm - 9:00 pm
Main Festivals and Fairs in Temple:
Janamashtami, the birth anniversary of Lord Shri Krishna celebrated at very large scale in the temple. It comes on Ashtami Tithi of Krishna Paksh of Bhadrapad month as per Hindu calendar, which is approximately mid of August.