Diu is well known for its beautiful beaches. Diu is located at 125 kms from Junagadh.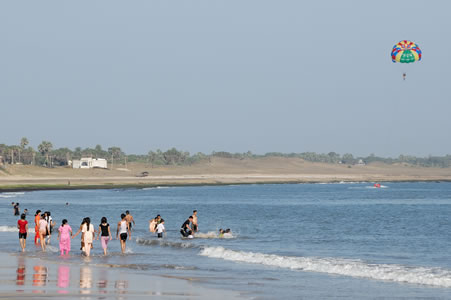 By Air :
The nearest airport of Keshod connecting to Mumbai via Porbandar and Rajkot.
By Rail :
Veraval is the nearest railway station to reach Diu. Diu is well connected to Rajkot , Veraval and Ahmedabad by rail.
By Road :
State transport buses and private luxury and semi luxury buses are available from all major cities of Gujarat.
Diu District is an island lying off the south coast of Gujarat's Kathiawar peninsula, separated from the mainland by a tidal creek. It has an area of 40 km².The town of Diu lies at the eastern end of the island, and is famous for its fortress and old Portuguese Cathedral. It is also a fishing town
Diu is famous for exotic liquors on golden sandy beaches, dense palm groves and historical monuments. It is the beautiful tiny island with a coastal length of 21 kms. Chakratirth beach at Diu has beautiful landscaped gardens, open air-auditorium and changing rooms. Other famous beaches at Diu are the Kevdi, Gomatimala, Goghla, and NaGoa beach
In 1535 Bahadur Shah, the Sultan of Gujarat, concluded a defensive alliance with the Portuguese against the Mughal emperor Humayun, and allowed the Portuguese to construct the Diu Fort and maintain a garrison on the island. The alliance quickly unravelled, and attempts by the Sultans to oust the Portuguese from Diu between 1537 and 1546 failed. The Siege of Diu by the Ottoman Empire in 1538 was unsuccessful to repel the Portuguese. The fortress, completed by Dom João de Castro after the siege of 1545, still stands. The island was occupied by the Indian military on 19 December 1961.
Diu Fort: Among all the places, the Diu fort has a prominent position in the places of tourist interest. It is a huge and impressive structure. It was constructed between 1535 and 1541 by the Portuguese, the fort has gorgeous view of the sea and Panikotha. You feel the history and battle fought by gallant soldiers.
Chakrateerth beach: although no watersports and other activities are available, you can love the sandy beach. It has a beautiful sunset point and a memorial of Indian battleship INS Khukri which was destroyed by Pakistan in the 1971 war (It was the only Indian ship destroyed by Pakistan in the battle)
Nagoa beach: is a horseshoe shaped beach with various water sports facilities.
Ghoghla beach: is the largest and gentlest beach of Diu. You can do swimming, sunbathing, parasailing, surfing etc.
Gangeshwar Mahadev: Gangeshwar Mahadev is 3 kilometers from the Jethibai Bus Terminus of Diu. This beautiful and sacred place has 5 shiv-lingams. The Shiv-lingam gets an abhishek by the ocean when it is on high tide. The legend is that the Pandavas worshipped load Shiva here during their exile.
St.Paul's Church
St.Francis Church
St.Thomas Church
INS Khukri Memorial:It was inaugurated on 15th December, 1999 in memory of the heroic sailors and officer who chose not to stop fighting and leave ship until it completely sank. INS Khukri was a frigate of the Indian navy
Sea Shell museum: A unique and amazing museum for lovers of ocean life.
Fortim-do-mar (Pani kotha)
Sunset At Diu